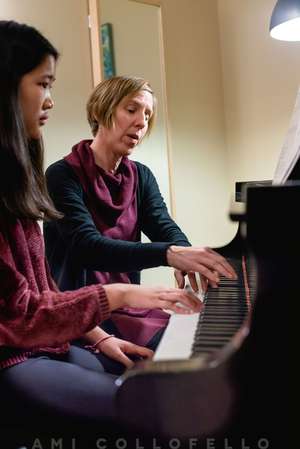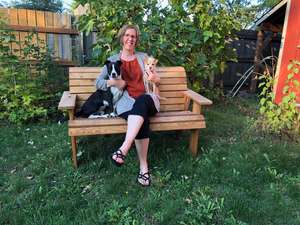 I am passionate about teaching piano and Body Mapping. I love what I do and I love how the process of learning and creating music never gets old. I am constantly inspired by my students and I aim to inspire them to become life long learners of music. 
As a younger sibling, I watched my older brother play piano and I wanted to do it too from the moment the piano came into our home. I was thrilled when the day finally came that I too got to take piano lessons. This was one of the greatest gifts my parents could have given me. My childhood teacher, Deborah Mele, is an inspiration to this day and I am so grateful for everything I learned from her. She gave me an incredible foundation to take with me into my career as a musician and music educator. Along the way I have also been lucky to study with many inspiring teachers, all of whom contribute to what I am able to offer my students in their lessons. My love of music guided me through to receiving my MA in Music from Portland State University where I also became a Licensed Body Mapping Educator. This method gave me the chance to finally have the language to bring together my love of movement, sports and dance and my music making. Making music is a movement art. Movement is life! 
I have been teaching and performing in Oregon for the past 18 years. I currently teach private piano lessons (due to COVID - 19 mostly online, but some in person as well - you choose what works for you, some students choose a combination), group classes, summer camps and body mapping sessions and workshops in my studio in Southeast Portland.
As a licensed Body Mapping Educator I offer the course What Every Musician Needs to Know About the Body. Please ask me about it if you are interested in learning more about this incredible method to enhance your musicianship and quality of life. I also work with musicians to help them recover from injury, to prevent injury and to uncover greater ease in playing.
I continue to have a rich and joyful career in performing, composing and teaching both classical and jazz piano. I am currently doing a video project - 100 days of free improvisation - to encourage exploration of color, sound, movement and authenticity at the piano, free of judgement. In addition to music, I enjoy spending time with my family, hiking, cooking, reading, writing, sewing and training my two dogs. My first degree is a BA in Romance Languages. I speak Italian, Spanish and some German, and have traveled and worked abroad extensively in Europe and Latin America. Please contact me to set up a time to meet so we can chat about how I can  help foster and guide your child's creative, musical spirit.
Melodiously,
Monica